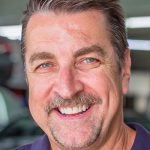 Scott Brown is the co-owner of Connie & Dick's Auto Service Center in Claremont, California and a well-known trainer in the automotive service industry. He's also the founder of Diagnostic Network.
Advanced Driver Assist Systems (ADAS) are now found on most new vehicles today. Knowing all you can about ADAS is important to meeting the diagnostic challenges of vehicles rolling into your service bay today! The more you know about ADAS, the better you'll be able to diagnose and repair these vehicles. In Part 3 of this new podcast series brought to you by Automotive Tech Info, Scott continues his lessons on what ADAS is and how it works, including:
How radar and lidar systems work together in the ADAS system.
The precision of these systems in measuring distance to objects.
What these systems are capable of in tracking multiple objects in front of the vehicle.
Why dropping an ADAS sensor or slightly bending a sensor mount can have serious consequences.
How some vehicles use multiple radar or lidar sensors all around the vehicle.
Why it's important to know when a vehicle has been in a collision before trying any calibration operations on radar or lidar sensors.
What special precautions you need to take when working around ADAS.
A preview of our fourth and final Episode covering what you need to know about calibrating ADAS.