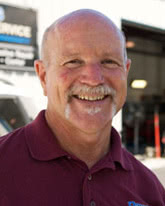 Dave Facciuto is and the former owner and ASE Master Technician Technician of Dave's Import Service in Medford, Oregon. Kevin Orndorff is a former technician working at Dave's and current owner since he purchased the shop from Dave. Dave is still active in the industry as a consultant and shares his technical and business management knowledge with Kevin and the industry at large. His extensive background in diagnostic strategies has provided a unique perspective on how best to develop your own diagnostic process for both new and experienced technicians working on today's modern vehicle technology. In this episode, we continue our conversation with Dave and Kevin on Diagnostic Strategies and what you need to do to keep both your experienced and developing diagnostic techs current on changing technology.
Listen in as Dave and Kevin share their insights on:
The different tiers of training in the educational system preparing our next generation of technicians.
The value of having a mentor and internships in the shop.
How Dave uses internships in his shop and gets involved with his local high school and college training programs.
Why investing in your techs is part of our new normal.
How much training is enough to keep techs sharp.
The role online training plays in ongoing learning.
Why there's no limit to the amount of training you need.
The importance of having a training plan and budget.