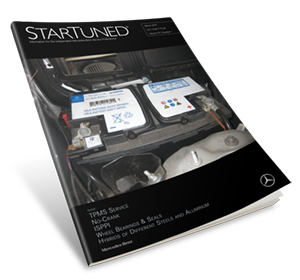 In this issue:
A New Look at TPMS Service
Over a decade in, what you now need to know for tire work.
No-Crank?
Battery, grounds, security, or…?
Independent Service Provider Parts Information – ISPPI
Daimler AG recently switched from their Electronic Parts Catalog EPCnet to a new system, ISPPI (Independent Service Provider Parts Information). This new system contains the exact same parts information available to Mercedes-Benz dealers worldwide.
Loaded: Wheel Bearings & Seals
You may think of them as ho-hum mechanical parts, but they still need attention, especially with wheel speed sensors.
Late-Model Mercedes-Benz Cars Are Hybrids of Different Steels and Aluminum
Steel's century of dominance in motor vehicles is now joined by aluminum's surging use to save energy.
Certified Collision Centers Offer Timely, Convenient, Top-Quality Collision Repair
This program was developed with one goal in mind: to provide valued Mercedes-Benz customers with a seamless and satisfying after-collision repair experience.