photos and story courtesy Mike Tontimonia
I'd expected rip-snorting rapids filled with surging white water with enough thrills, spills, and scares to make a gladiator yell "Uncle!" My pre-trip dreams had been filled with scenes from the thriller Deliverance and frightening images of a river so mean and powerful that it beat all but the toughest of rafters.
But under the warming glare of the summer sun and with the gentle current of a wide, friendly river massaging the inflatable craft with the steady, experienced fingers of one of the world's oldest rivers, it seemed more like an relaxing river trip for dreaming – for kick'n back. In fact, the first ten miles of the New River from our put-in at Thurman, West Virginia, a once-thriving coal town full of long-ago memories, seemed perfectly suited to nonsensical daydreams and trivial talk.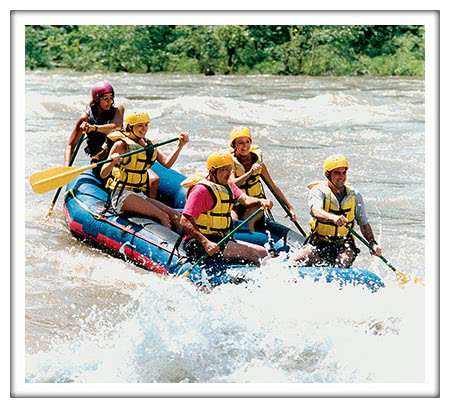 To raft or not to raft, that was the question. I queried my own mind expecting no real answer but wondering all the same if perhaps the white water of the New River was really nothing more than some overrated marketing strategy for the many rafting outfitters in the area.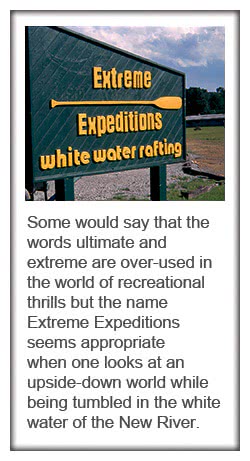 The trip, at the invitation of personable Rick Johnson, owner of Extreme Adventures, was to be 16 miles in length, a trip to include white water from class one to five. We were already well over half-way to our pick up point with little to show but a bit of sunburn. Sure we had bumped and bounced through rather tame rapids, learned the feel of the craft beneath us, and how to balance ourselves on the rubber rails as the raft chugged along. We had even been encouraged to jump overboard to float alongside in the current and to climb back in, a skill we each hoped silently that we wouldn't need in a pinch.
Five of us, all first timers, were in a 12 foot inflatable raft. Sibbie Long, an experienced river guide, directed the raft from the stern. She did the steering, the others provided the push or pull, as she commanded and expected.
Sibbie had a plan. While we, the neophyte crew, grew somewhat bored with the small challenges she presented us, Sibbie was doing some training. We suspected nothing, but we were learning. A little bit at a time, a small ripple here, a slightly tougher run there, Sibbie built our confidence and our skill. As each mile passed, we replaced our jitters with drive, our initial trepidation with a growing confidence. As a group we felt like a team, as individuals we felt the pride of being part of that team. And all the while, we learned more about rafting the river that awaited us, the real New River, according to locals once known as the river of death.
A series of three rapids, Upper, Middle, and Lower Railroad, named after the ribbon-like steel road that provided the only wheeled access to most of the New River gorge, is rated at various points from class two to four, meaning at its best – or worst – there is some degree of danger involved, some skill required to maneuver it safely. On this day, according to Sibbie, because of the excessive rains from the El Nino influence, some sections of the Railroad rapids would be upgraded to class five. Kind of like driving five gallons of water through a four-gallon hose. But like most river passages, the guide can steer though the most violent water or avoid the worst of it by carefully picking a less challenging route.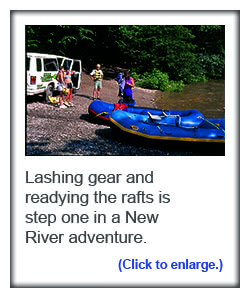 We wondered aloud just what route our guide would take.
Sibbie had a line ­– heck, she had enough lines to be a stand up comic.
"If you fall out, get back in," she smiled, joking and teaching all at once as she showed us what to grab if did go over.
"If you do end up in the river, open your eyes. If you see a fish don't breath. If you see a bird it's OK to breath."
"Your chances of falling out are slim but if it happens, keep your feet up and try to avoid the rocks."
Man, that one sounded serious. And I thought we were going to spend the whole day gently slipping down this picturesque, friendly river. Johnson, when he extended the invitation, described his rafting package as more than just the thrill of busting through some rapids.
"Some outfitters use a put-in spot that shortens the trip considerably, and puts the rafters right into the heart of the action. We want our people to get a real river experience, to enjoy a complete day on the river. We're not a high volume rafting service and don't want to be," he stressed. Indeed, some area rafting outfitters provide New River rafting to tens of thousands of rafters each summer.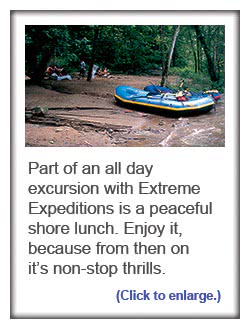 But the relaxing part of Johnson's promised excursion was over. The New River Gorge, a national park which is often called the Grand Canyon of the east, steepened and towered ever higher as we drifted into the heart of the valley. The river, for so many miles a wide, moving window into scenic, rural West Virginia, narrowed. The current quickened, sucking us downriver, pulling us closer to the real thrill of rafting.
We mastered the Lower Keeney, a powerful class five rapid. We drove through Lollygag, a twisting mass of white water and boulders. We handled Dudley's Dip with finesse and a strong paddle stroke. Our spirits were soaring, our confidence too.
"Give us another," we shouted and Sibbie did.
We paddled like crazy people, driving the raft into Double Z, clearing a huge, gaping hydraulic hole that would have eaten us like a frog eats a fly, and we crashed everything the rapid could muster.
But the New River wasn't to be had by a bunch of beginners, not on this day. In an instant, a split second before we were safely through, Double Z spit a reactionary wave at us, a wall of water left over after all the rest had forced its way through the rocks. We were over in that same instant, fighting for air, for a grip on the raft, for some sense to being out of the raft and tumbled about like plastic forks in a dishwasher. A 12 foot raft and five gasping beginners in yellow helmets bounced by the waves of a thousand tons of water.
"Get in, get in, we going into another one. We've got to be in the raft now," Sibbie's voice carried a true sense of urgency over the screaming river.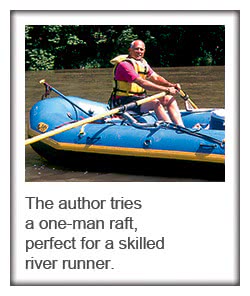 Driven by that urgency we helped each other, tugged and pulled and shoved each other over the sides of the raft. Three of us still had paddles, two had lost theirs along with the crew's collective dignity. But in the next few seconds we outfoxed Turtle Rock and then Greyhound. Only then did we stop for a breather, to count heads and gear, and to take stock of our personal condition.
"Welcome to the New River swim team," Sibbie said. "Now get ready, there's more coming."
And there was. Miller's Folly, Flea Flicker and several more rapids below them.
When it was over we congratulated each other. I don't know why but it seemed the right thing to do, after all we were experienced rafters by then. A team of rafters at that.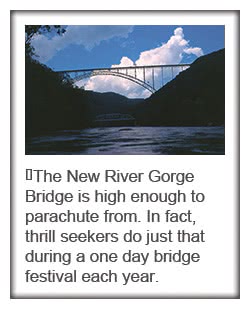 Of course we relived each of the day's best thrills as we returned to headquarters near the rim of the gorge – and we promised each other we would do it again. Maybe the next time though, we would meet to take on the Gauley River, an even higher rated rafting river which joins the New downstream.
Interestingly, the New River, a nationally known rafting river for 30 years, springs to life in the south. The river runs almost straight north, gaining strength and volume as it threads through West Virginia. Eventually, the waters end up in the Ohio River then run west to join the Mississippi. The river and the surrounding countryside are rich in history and beauty. Visitors should take time to explore the area.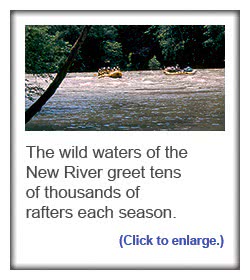 Sibbie has been guiding on the river since the mid 1980's, a job she describes as being addictive. Obviously it is, demonstrated by her enthusiasm and knowledge of local lore. She truly loves the New River and the area.
There is some risk involved in rafting although Johnson and Sibbie expressed an interest in guiding persons of all levels of ability including those who are disabled in any way. According to Sibbie, the most common injury is suffered in the raft, usually the result of an errant paddle meeting a lip.
"If someone wants to try rafting we'll figure a way to make that possible," Johnson said.
For more information contact the New River Gorge National Park office at (304) 465-0508. Contact Extreme Adventures in Fayetteville, West Virginia at (888) 463-9873.