by Glen Quagmire
Interesting things for motorheads to see and do…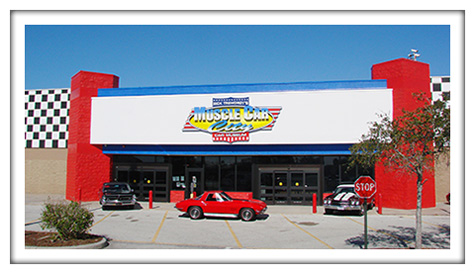 If your vacation plans take you to Florida, you're almost certainly going to spend some serious time at Disney World, Epcot Center and, probably, the Kennedy Space Station in Cape Canaveral, all on the east coast. But if you're a true muscle car enthusiast, you really owe it to yourself to make the easy 2½ hour drive across the state to a brand new venue that's a muscle car museum and much more.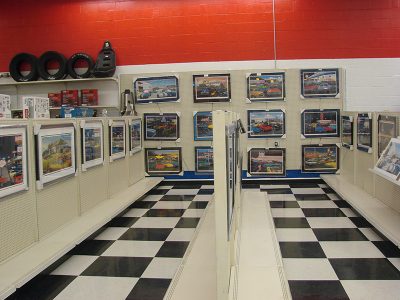 This new facility features nearly 200 muscle cars all under one roof. Appropriately named Muscle Car City, this museum and more is located in Punta Gorda, Florida, a virtual suburb of Sarasota. While a bit heavy on Chevrolets and Corvettes, the collection of vehicles on display includes many other special interest cars including GTOs and 442s, along with street rods and other "real" antique cars dating back to the 1920's. And, just for good measure, the museum has the Budweiser Jet Hydroplane boat that broke 200 mph.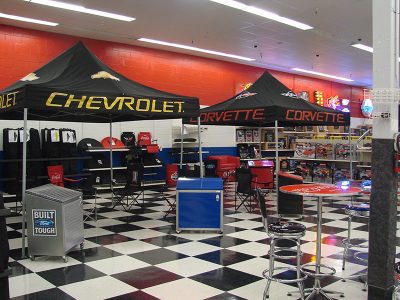 So where do you put all of these cars? Why in a nearly 100,000 square foot former Wal-Mart. That's right, an entire Wal-Mart worth of muscle cars.
But wait! There's more!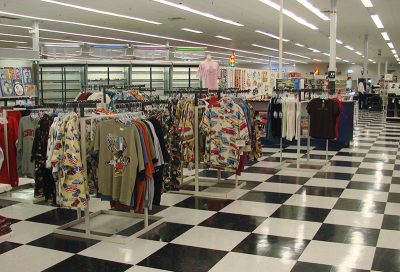 In addition to all the cars, owner/founder Rick Treworgy's vision includes much, much more. For starters, there's a 1950's-style diner featuring 1950's style food which, while reasonably priced is, unfortunately not at 1950's prices. But the food, which includes breakfast and lunch offerings from eggs and omelets to burgers, fries, cheese steaks, root beer floats, and ice cream, is tasty and reasonably priced. The decor is strictly 50's, with red vinyl tuck 'n roll chairs and booths, and black-and-white checkerboard tile floors.
But wait! There's even more!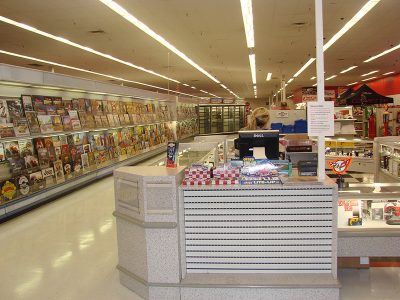 Sure a great car museum needs a diner to re-charge your nutritional needs. But it also needs a gift/memorabilia shop. And Muscle Car City has a good one. Offerings include the expected die-cast model cars, shirts, hats, books, jewelry and clocks. But did you really expect to find bucket seat office chairs, full-size gas pumps, and even a life-size replica of a 1957 Chevy dash board? You'll find all of this and more.
But wait! There's still more!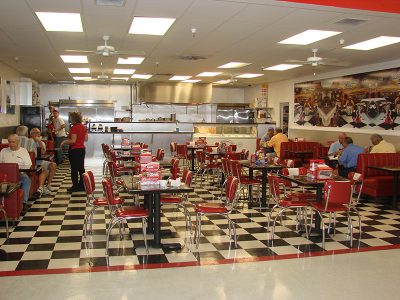 A car collection. A 50's theme diner. A gift shop. What else could you ask for? How about a full-line speed shop offering next-day availability on products from more than 250 leading performance parts manufacturers? The speed shop is under the direction of Dave D'Amore, who can provide advice and counsel on all types of performance parts, from engine enhancements to chassis upgrades. Of course he also has on hand a full array of oil, filters, and car care products, just in case all the beautiful cars in the museum give you a sudden urge to wax and polish your pride and joy.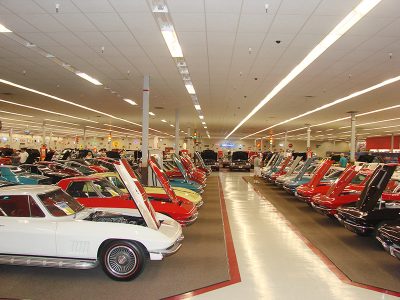 There's a modest admission charge for the museum and, in keeping with the family-friendly flavor of the museum, children under 12 are free when accompanied by an adult. Visitors can enjoy the speed shop, souvenir shop, and diner without paying the admission charge. Clubs or groups can arrange for personalized tours, and museum president Rick Treworgy is also planning cruise-ins, shows, and other special events in his huge parking lot (remember, this is a former Wal-Mart). The well-lit parking area will accommodate more than 700 customer/cruise-in/show cars.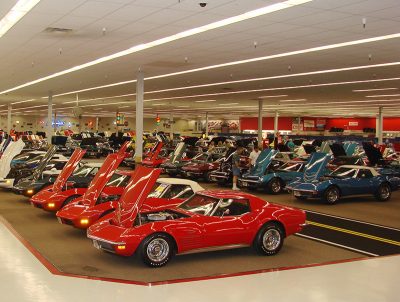 While many of the cars are on permanent display, like the at-least-one-of-each-year Corvettes starting with the 1954 model year, other muscle, performance, and antique cars will be rotated in and out of the museum in order to help keep it fresh. Plus, Treworgy plans to have 15-20 vehicles for sale also on display, just in case your check book goes a-twitchin'.
So if a 2-acre muscle car museum sounds like your kind of place, make a trip south part of your vacation plans. Best to call or check the web site for hours of operation and directions.
If you go…
Rick Treworgy's Muscle Car City Museum
3811 Tamiami Trail
Punta Gorda, FL 33980
(941) 575-5959
www.musclecarcity.net
e-mail:
April@musclecarcity.net
Rick@musclecarcity.net
Do you know of an event or venue that would be of interest to other "car people?"
Submit your story through our Contact Us page.
Or E-mail your suggestions to Glen@MasterTech.com