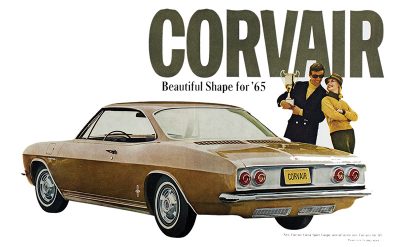 What a concept! The idea may be a century old, but it can still make a small engine put out like a big one. This two-part series will prepare you for high-performance modifications with information on operating principles, design fundamentals, diagnostic info, and replacement and upgrade alternatives. Once a car reaches cruising speed, it doesn't need very much power to keep up the pace. But acceleration — especially the thrilling sort that makes driving fun — requires plenty of output. Wouldn't it be great if you could have a small engine to propel you down the highway economically, but with the ability to grow miraculously in displacement when you ask it to do so by the action of your right foot? To carmakers pursuing this seemingly magical combination of small-powerplant mpg and gorilla-motor 0 to 60 times, that's been the basic idea behind the turbocharger. HOT ROD Professional readers, on the other hand, are mostly on a quest for the latter, and squeezing a whole lot of power out of an engine can be greatly facilitated by tuning the stock turbo, upgrading the system, or adding one to replace normal aspiration. Before you embark on such a project, however, you'd better know the whole story, beginning with basic principles.
Well-proven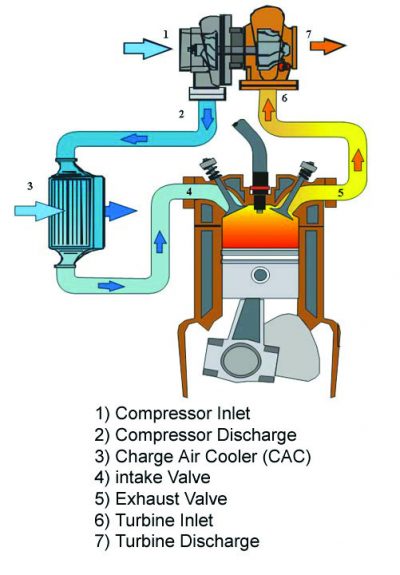 The turbocharger is a proven technology that's been used in heavy-duty trucking, agriculture, heavy equipment, marine applications, railroad engines, aircraft, etc. for many decades. In the automotive world, the term conjures up images of exotics, pure racing cars, and high-end Europeans and Asians, although it's boosted the power of many more mundane vehicles over the years. On the street scene, the basic idea has always been to use turbochargers to produce tire-shredding horsepower numbers from relatively small displacements, essentially causing the engine to grow miraculously whenever you put your foot in it. Now, the emphasis is changing to getting acceptable power out of the smallest, most fuel-efficient powerplants possible. The market system is nothing if not responsive, so high fuel prices are about to make turbos explode in popularity. More and more new cars will be appearing powered by small, clean-running turbo-diesels and T-charged gas engines. So, what exactly is a turbocharger and how long has it been around?
1905?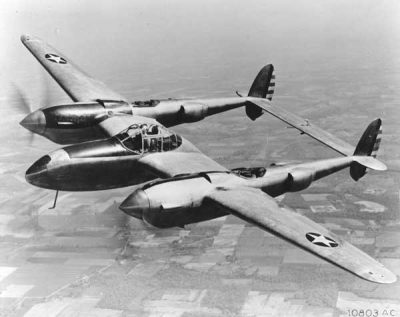 The history of turbochargers begins in 1905 when Swiss engineer Alfred J. Buchi patented the first supercharger powered by exhaust heat. Some time thereafter, a prototype turbocharged diesel engine was developed, but the industrial processes and materials did not yet exist that would allow the manufacture of a true production model. The first working turbocharged engine was created in 1910 — a two-cycle "rotary" diesel for aircraft built by Murray-Willat (at that time, a rotary engine meant one that had the crankshaft bolted to the airframe so that the entire engine spun with the propeller, so it's not to be confused with the modern Mazda rotary). By 1920 the first turbocharged diesel locomotives and ship engines appeared, and General Electric introduced its turbo on a LePere biplane that set an altitude record of over 33,000 feet. That same year Mercedes-Benz and Fiat began turbocharging cars, and in 1936 J.C. Garrett formed Garrett Corporation. By World War II, turbochargers — often equipped with charge air coolers manufactured by Garrett — were used in warplanes like the Lockheed P-38 Lighting and B-17 Flying Fortress to overcome the lack of oxygen per cubic foot at high altitude. The demonstrated reliability of turbocharging as used on aircraft opened the door to automotive and diesel truck use after the war. The availability of new materials more resistant to high temperatures sped the development of the turbocharger. In 1952, Fred Agabashian qualified the first turbocharged diesel engine race car entered in the Indianapolis 500 for the pole position and led the race for just under 100 miles. His day ended when the turbo ingested tire debris left on the track. Practical turbo powered diesel trucks appeared in 1957, and today the majority of both light- and heavy-duty diesel trucks are turbocharged, as are most diesel-powered tractors and heavy equipment. The Oldsmobile Jetfire Turbo Rocket and Chevrolet Corvair Monza appeared in 1962. They were not big sellers, so were short-lived. Turbos re-emerged in the early 1970s on the German-built BMW 2002 Turbo and Porsche 911 Turbo. Soon after that, turbocharged race cars were dominating every venue where they were legal. Beginning in the late '70s, most car manufacturers offered a model or two with turbochargers, but consumers didn't readily accept the extra expense and the complications, nor the turbo lag inherent in those designs — the power increase wasn't enough to justify the handicaps. The shining exception to this was the Buick 3.8 V6 turbo, which was a great car all around. In 1978 the first turbocharged diesel engine passenger car, the Mercedes-Benz 300 SD, was introduced, and in 1981 the VW Golf Turbodiesel became one of the most desirable cars in Europe. In 1980, the 301 Turbo Pontiac debuted. Turbocharged passenger cars had become commercially viable. Soon, however, multiple valves, variable cam timing, and all the many performance benefits of electronic engine management made naturally-aspirated engines so lively that the addition of turbochargers was deemed unnecessary and superfluous, and their popularity waned.
New, improved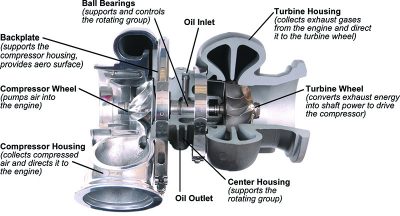 Fast forward to the present day. With energy prices as they are, you shouldn't be surprised to see widespread use of turbocharging occurring now. Turbo lag has been largely cured with ball bearing construction and high-technology turbine designs, including variable vanes on the turbine side. VNTs (Variable Nozzle Turbines) have been in use for years on diesel pickups with the GM Duramax, the 6.0 and 6.4 liter Ford, and the Cummins inline six. Turbocharging offers the power of a large engine on demand with the fuel-sipping qualities of a much smaller engine during low power demands – the best of both worlds. As clean-burning catalyzed and particulate-controlled diesels make inroads, you can expect to see the turbocharger population continue to grow and flourish.