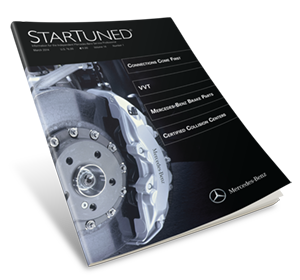 In this issue:
With the advent of the computer, electronics have exploded in every aspect of our lives, and the automobile is no different. Regardless of how sophisticated and productive, all M-B electronics still rely on basic wiring connections. It's our job to keep all those connections clean, tight, and moisture-free to make everything in the electronics chain work the way it should.
We are a demanding people. We want to buy high-performance cars, but we don't want to deal with the hard-starting and "lumpy" idle that come with high-profile, long-duration camshafts. How can engineers make more power and yet still give us a smooth idle?
Great stopping power, pleasant pedal feel, no noise or pulsation, and long life are all good reasons to buy friction components and everything that goes with them from your local M-B dealer's parts department.
New structural and safety features of Mercedes-Benz vehicles require significant changes to collision repair facilities, equipment, and technician skills.
Download PDF 〉