If you think you already know the answer, you might be surprised.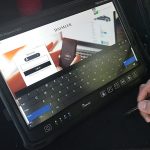 We'd be shocked if your shop didn't have at least one aftermarket code scanner, and you probably have several, as do we. But since our business is primarily Mercedes-Benz vehicles, we found it paid off handsomely to invest in a XENTRY Diagnosis system to supplement the aftermarket generic code scanners we already had. The XENTRY is in nearly constant use in one bay or another, simply because it does so much more than anything else we have.
A decent aftermarket scanner can not only display (and erase) the OBD II "Check Engine" Diagnostic Trouble Codes (DTCs), but also DTCs and information for several other vehicle systems. If all you need to do is reset the oil change timer or get a quick reading of some codes, it's fine, but for the more involved diagnosis and repairs, the aftermarket scanner just doesn't cut it.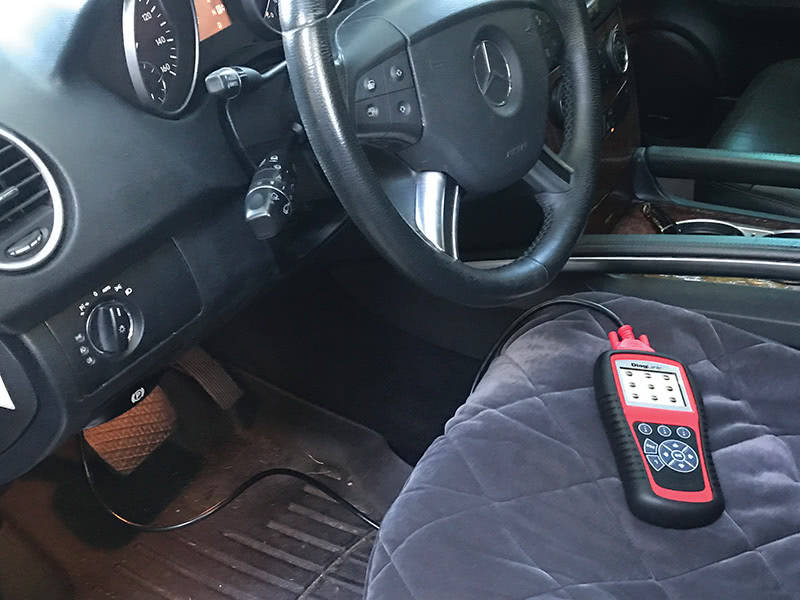 We'd given some thought to a subscription for the J2534 Pass-Thru software, and while it was great for emissions-related systems, it didn't help in any of the dozens of other systems typically found in newer Mercedes-Benz models. But for programming or initializing control units, as opposed to just reading DTCs, it could be a valuable choice for many shops. XENTRY, of course, programs every control unit in every Mercedes-Benz model, all the way back to the (now ancient) Hand-Held Tester (HHT) systems. Yes, we do see a lot of 124 E-Class models in our shop, and XENTRY Diagnosis is compatible with everything, although we did have to buy a couple of extra cables. Even systems in the 210 E-Class models can't be completely read with most aftermarket scan tools, as these systems still use the 38-pole round diagnostic connecter under the hood for all non-OBD II systems.
XENTRY is also superior when is comes to actual diagnostics. Our aftermarket scanner, with the optional Mercedes-Benz software module, tells us in clear language what the DTCs mean, but absolutely nothing about what to do to identify the actual problem. Admittedly, many of the DTCs we see are somewhat familiar, and so diagnosis is not new territory, but none of us are experts in everything. XENTRY Diagnosis also includes specific, detailed tests for every DTC that can be tested for. Between the DTC-specific tests and the included subscription to the MBUSA ISP Portal (STAR TekInfo), we save a lot of time in narrowing down the actual faulty component so we can get to the repairs right away. And a more efficient shop is a more productive shop, making everyone happy.
And then there's the programming, but not just for emissions-related components. In a W211 E-Class, even the A/C control panel needs to be programmed. With our XENTRY Diagnosis machine and software subscription, we also get programming rights using the on-line Daimler servers. Before XENTRY, we'd have our local dealer program for us, but that costs both time and money. Having it in-house definitely has its advantages, but as mentioned, Mercedes-Benz is nearly 100% of our business.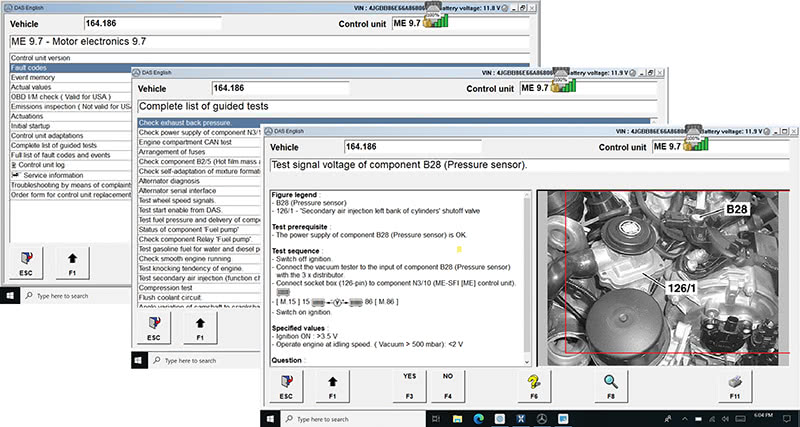 You can also get the optional integrated data scope, which has its own set of helpful features. Sample waveforms are shown, as are test connection and settings information. Not every shop needs an oscilloscope, and a skilled technician can press a generic scope into useful service, but if you struggle with this test instrument, XENTRY holds your hand to make it as useful and productive as possible.
Last, there are companies out there offering diagnosis as a service. You buy hardware that connects the vehicle to the cellular telephone system, and a provider such as asTech® connects to the vehicle remotely and, using their own XENTRY Diagnosis system, does whatever you need them to do, for a price. If you use them maybe once a month, it might be worth it, but any more than that and it gets shockingly expensive. As far as costs go, it's about the same as we used to pay for our local Mercedes-Benz dealer's assistance. There's only so much you can pass on to your customers before they start looking elsewhere.
A XENTRY Diagnosis system costs about $20 a day to own over four years, which includes four years of MBUSA ISP Portal access, software updates, and a good warranty. Our shop easily makes that back many times over due to our volume and the wide range of cars in the local fleet. Whether this makes sense for your shop or not really depends on where you are as far as product mix, volume, and needed efficiency. But if you are primarily a Mercedes-Benz shop, are scheduling appointments more than a couple days out, or spending technician time driving cars to the dealer, a XENTRY Diagnosis system could be a money-maker for you.
To get more information on a XENTRY Diagnosis system, visit the MBUSA ISP Portal at startekinfo.com, Log in with your C7 (GEMS) user ID (or create one free using the "New User" button, then log in). On the Home page, click "Purchase Hardware/Software." If you have questions about what the system can do and what's included, ask your dealer or use the "Contact Us" link on the website.