Getting Genuine Mercedes-Benz Parts has never been easier
When you need parts, you have a lot of choices, but if you are like most shops you insist on Genuine Mercedes-Benz Parts. You know about their legendary quality, that there's no monkeying around when it comes to fit and function, that your customers expect only the best, and of course there's that exceptional parts warranty. Now, getting those parts into your shop is easier than ever!
RepairLink
For wholesale parts from Mercedes-Benz and most other OEMs you can count on RepairLinkSM, a secure, web-based parts catalog software. Once your account is active, all you need is a computer or mobile device with internet access to receive, process and track online orders. VIN-based parts lookup, technical drawings, pricing, availability, and real-time order updates makes ordering OEM replacement parts easy. Visit repairlinkshop.com to register for your free account.
Collision shops can also use RepairLink to source the mechanical and electrical parts needed to complete a repair, but for collision parts, there's CollisionLink®.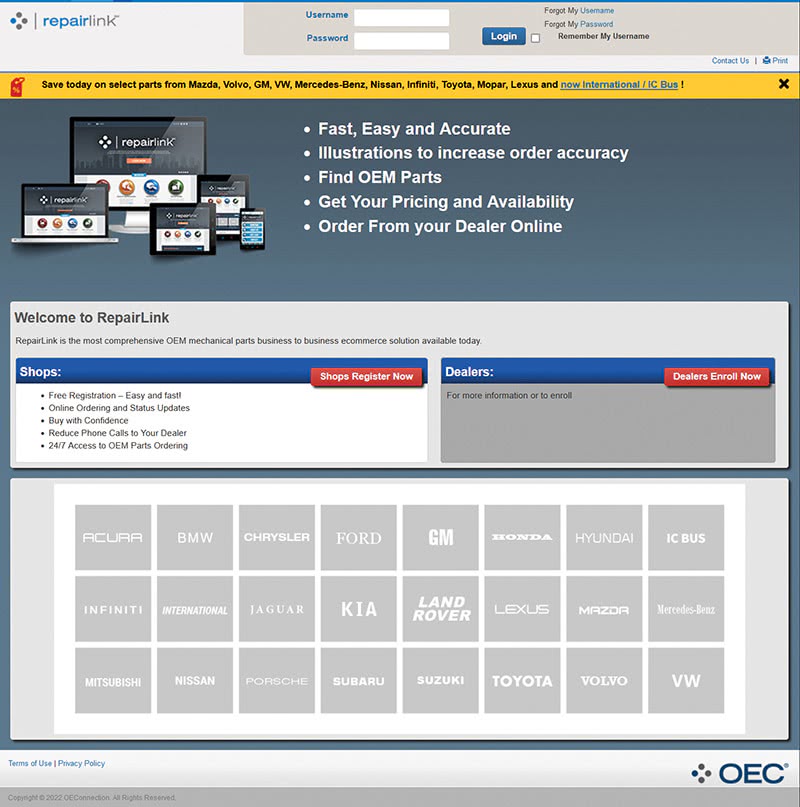 Mercedes-Benz CollisionPro
Mercedes-Benz CollisionPro is powered by CollisionLink, a one-stop multi-manufacturer site to source all your wholesale collision repair parts, with tens of thousands of parts that qualify for discounts. OEM-provided VIN details and parts info ensure order accuracy while 24/7 parts order management is seamlessly integrated with most major estimating systems to simplify the process. Even more, CollisionLink PLUS is an expanded offering to capture more gross profit and save even more administration time. You can order all your collision parts, regardless of brand and model, through CollisionLink. Visit collisionlinkshop.com for easy, fast and free registration.

Genuine Mercedes-Benz Parts
Many Mercedes-Benz dealers in the United States offer direct online parts ordering. Customers (including shops like yours) can set up an account with the dealer, perhaps for more attractive pricing and custom delivery options, but you can also buy parts without an account, making this an attractive option for retail customers. Virtually the entire Mercedes-Benz parts catalog is available for online purchase, with the added advantage of fast dealer pickup or direct-to-you shipping wherever you are. With advantages for both wholesale and retail customers, avoid a trip to the dealer and handle it online. Visit your preferred dealer's web site or contact them to learn more about direct parts ordering through Genuine Mercedes-Benz Parts.