There is a simplified and inexpensive test identical to the Audi A6 ventilation system test discussed in an earlier article. The method is to test, photograph and maintain that research for models that do have these issues. Lean conditions also mean oil leaks as in the earlier Tiguan Rear Main Oil Seal Leak article.
What does a Q3 and Tiguan test look like?
With these two models and idling while hot, both are nearly identical. These values are considered normal with no evident vacuum or oil leaks. Try these tests, they are quite simple. The test adapter is inexpensive, and fits many models including those pesky BMW versions. The slack tube manometer is simple and accurate to use.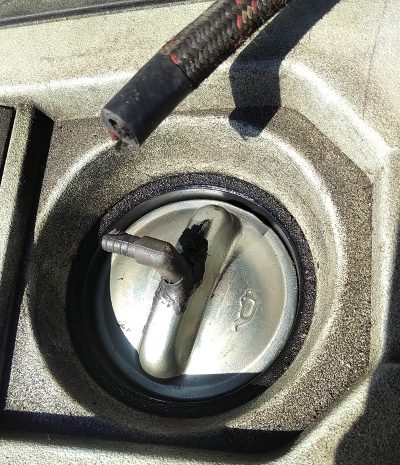 The oil cap is the same one as in the A6 article.
A hole was drilled and a spare battery vent elbow was fitted tightly and glued with two-part epoxy.
This will test the upper portion of the ventilation system on the Q3 or Tiguan.
This test is with the Tiguan.
The added test is with a vacuum gauge attached to the dipstick opening. With the gauge attached, the reading should be quite low. Removing the gauge and inserting the dipstick offers another test as mentioned in the earlier image. What is the value with or without the dipstick inserted? Try this and consider the learning as we continue.
Test and note all the results. This is how one learns when it is repeated multiple times.
Another test can be accomplished while looking at VCDS measured values. Create a vacuum leak and watch the fuel trim PIDs.
Notice how oxygen sensors react to an internal or external vacuum leak. Will fuel trims be affected? Try this test, look at the data, and see the reaction.
At this group hot and at idle, how does the data change with the oil cap removed and what if the dipstick is pulled away from the metal tube? How will engine management react to a created engine vacuum leak?
Two engines were tested — a Q3 and Tiguan with the CCTA engine.
The Q3: Address 01: Engine (CCT)
Labels:. User\8U0-907-115-L.lbl
The Tiguan: Address 01: Engine (CCT)
Labels:. User\06J-906-026-H.lbl
With both engines, take the time to read the data within these groups and fields.
Lambda control groups 001 and 107.
Lambda sensor(s) can be viewed at groups beginning at 030.
Will the throttle body react at group 062?
Are there any misfire counters active at 015 and 016?
Attempt the OBDII selection in VCDS. There are some interesting values that can be accessed as an aid for this test. Choose a drop down list to access the PIDs at idle with this test, take screen images, and compare those values.
Visit dwyer-inst.com/Products/ManometerIntroduction.cfm to read more about Measurement of Pressure with the Manometer.
Remember to protect the customer's privacy and all recorded information.