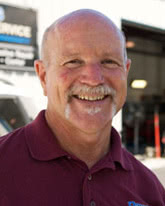 Dave Facciuto is and the former owner and ASE Master Technician Technician of Dave's Import Service in Medford, Oregon. Kevin Orndorff is a former technician working at Dave's and purchased the shop from Dave. Dave is still active in the industry as a consultant and shares his technical and business management knowledge with Kevin and the industry at large. His extensive background in diagnostic strategies has provided a unique perspective on how best to develop your own diagnostic process for both new and experienced technicians working on today's modern vehicle technology. Dave asked Kevin to join the discussion, and he's joined us as we continue the series on Diagnostic Strategies.
In this episode of the ATI Podcast, we'll continue our discussion with Dave and Kevin. Listen in as Dave and Kevin share their insights on:
Kevin's background and path to becoming a shop owner.
Why the first step in any diagnostic process is a full scan.
How to identify the best technicians to develop their diagnostic skills in your shop.
The importance of good communication, problem solving and time management skills.
The employer's responsibility in developing diagnostic talent in new technicians.
How real-world diagnostic challenges are the best teacher for learning sound diagnostic best practices.