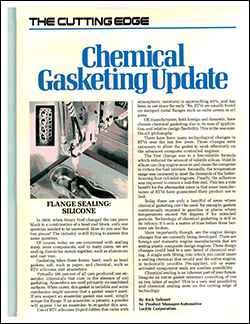 In 1908, when Henry ford changed the one piece block to a combination of a head and block, only one question needed to be answered. How do you seal the two pieces? The industry is still trying to answer this same question.
Of course, today we are concerned with sealing many more components, and in many cases, we are sealing dissimilar metals together, such as aluminium and cast iron.
Gasketing takes three forms: hard, such as head gaskets; soft, such as paper; and chemical, such as RTV silicones and anaerobics.
Virtually 100 percent of all cars produced use anaerobic (chemicals that cure in the absence of air) gasketing. Anaerobics are used primarily on machined surfaces. When cured, this gasket is invisible and some mechanics might assume that a gasket wasn't used. If you suspect an anaerobic gasket was used, simply scrape the flange. If an anaerobic is present, a powder will appear. Use an anaerobic to re-gasket this area.