A few service bulletins that might affect your customer's vehicle
Certain 2017 AMG GLE models (166, 292 chassis) with Code 494 (US Version): Check that the correct engine cover (A276 010 87 12) is installed. Any vehicle with the incorrect cover should visit an Authorized Mercedes-Benz dealer for a free replacement cover (SC 2017120008, work instruction code 1709P58C30).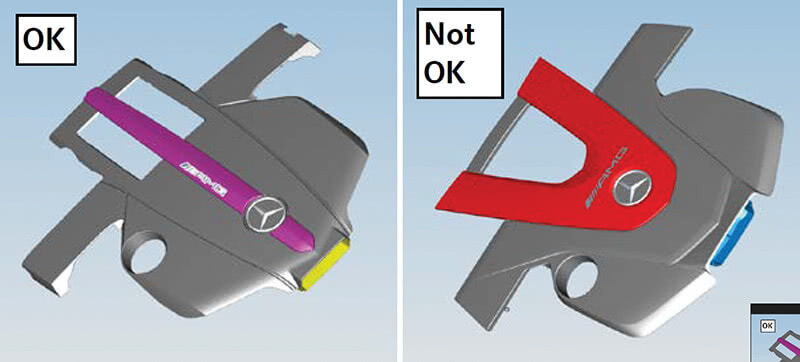 ---
Certain 2020 E-Class (213), S-Class (222), CL (217) and C-Class (205) models equipped with NTG5.5 entertainment system: In cases where the instrument cluster, COMAND display and analog clock show the incorrect time (including a display of 0:00), verify that the latest software is installed in the instrument cluster (A1), head unit (A26/17) and HERMES control unit (N112/9). If software is up-to-date, perform an initial start-up of the instrument cluster using XENTRY Diagnosis. Customers may wish to visit a dealer for this, as these vehicles are generally within the warranty coverage period.
---
Vehicles with M276, M278 or M157, up to engine 2769xx 30 530090, 2789xx 30 141210: In cases of minor leaks at the oil duct of either cylinder head, the oil passage plug hole may have scoring in the oil passage hole in the area of the check ball plug. On the left cylinder head this is the hole on the left beside the mechanical vacuum pump, and on the right cylinder head is the hole below the high-pressure pump housing. The remedy is to install a cylindrical pin into the oil passage opening. Ask your dealer for LI01.30-P-058630, which includes a parts list and work instructions.
---
If your C-Class (205), E-Class (213, 238) or (257) customer complains of a single 'cracking' noise from the area of the ESP control unit, only when heavy braking (>6m/sec2) from a speed greater than 30 MPH without an ABS intervention, start diagnosis by temporarily disabling ESP (roller test mode, see WIS document GF54.30-P-2020FG). If the noise can then not be reproduced, it is caused by the EBD (Electronic Brake Distribution) function and is completely normal. No repair is necessary.
---
Certain 2018 E63 and S63 (213, 222) models with M177 engine may have an illuminated MIL (check engine light) and exhibit rough running. Possible DTCs include one or more P030x85 codes (Combustion misfiring of cylinder x was detected). Possible causes include intake leaks (perform smoke test, check for cracks in the intake duct near the rear of the engine as shown in the image to the right); incorrect ignition coils installed (check for part number A177 906 95 00); and measure the following ground points, must be less than 0.5 Ohm: ME-SFI Connector F, pins 1, 2 and 4 to ground, ME-SFI Connector M pin 6 to ground, and all coils pin 1 to ground.