No: TJ 27500.6.0
Func Group: 5127
Func Description: Brake caliper
Partner: 3 US 7510 Volvo Cars North America
Issue Date: July 08, 2016
Vehicle Type
| Type | Model Year | Plant | Chasis range | Struc Week Range |
| --- | --- | --- | --- | --- |
| 124 | 2008-2016 | | 0000001-0200260 | 200720-201614 |
| 134 | 2011-9999 | | 0000001-9999999 | 201020-999952 |
| 135 | 2008-9999 | | 0000001-0377263 | 200720-999952 |
| 136 | 2008-2016 | | 0000001-0274097 | 200720-201619 |
| 137 | 2016-9999 | | 0000019-9999999 | 201524-999952 |
| 138 | 2016-9999 | 36 | 0000122-9999999 | 201345-999952 |
| 155 | 2015-9999 | | 0000001-9999999 | 201348-999952 |
| 156 | 2010-9999 | | 0000001-9999999 | 200835-999952 |
| 157 | 2015-9999 | | 0000022-9999999 | 201450-999952 |
Customer Symptom Codes (CSC)
| Code | Description |
| --- | --- |
| PK | Parking brake/No/reduced/incorrect function |
| WS | Parking brake/Difficult to operate |
Diagnostic Trouble Codes (DTC)
| Code | Description | Fault Type |
| --- | --- | --- |
| PBM | C200577 | Intermittent |
| PBM | C200677 | Intermittent |
| PBM | C200671 | Intermittent |
| PBM | C200571 | Intermittent |
Description
If the vehicle is equipped with Electrical Parking Brake (EPB), it is required to retract the rear caliper brake pistons by a special service command in VIDA when replacing the rear brake pads.
It may happen that the brake piston does not retract at all or does not retract completely, which makes it impossible to remove the rear brake pads from
the caliper due to one of the following reasons:
An electrical failure or a communication error between VIDA and PBM and caliper actuator.
A seized piston, probably due to excess wear on the brake pads causing the piston to have an unsuitable angle to fit the caliper housing, which causes a wedging/racking condition.
NOTE
The PBM unit shuts off the electrical current to the caliper actuators if the electrical draw is above 1A for more than 5 seconds.
NOTE
Vehicles with EPB can be identified with VDN code NE02.
PBM= Parking Brake Module
EPB= Electronic Parking Brake
DTC=Diagnostic Trouble Code
Service
If the actuator does not respond from VIDA command (there is no sound from actuator), then try this: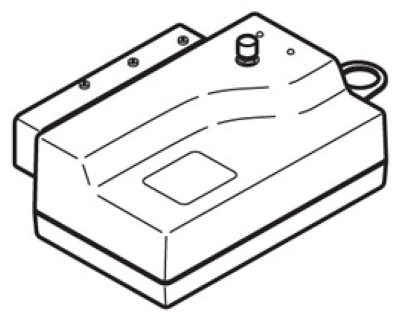 Release the EPB by using the tool PN 9513014 , which overrides PBM control unit.
If the tool is not available, try to close all doors, lock the car, wait at least one minute, unlock the car and open one door and try again with VIDA activation; repeat if necessary.
Fault trace any DTCs according to VIDA (including wires/terminals etc.).
If the actuator starts to retract the caliper pistons, but stops before the pistons are fully retracted, then try this:
Blow clean the caliper/actuator with high pressure air.
Remove the actuator from caliper housing by loosening the two screws.
Check the caliper to see if the activation shaft has been rewound, if neccessary manually screw back the activation shaft clockwise by using a suitable torx screw drive (refer to the TJ for video).
Reinstall the actuator to the caliper.
Push the piston into caliper housing all the way once the activation shaft is fully returned.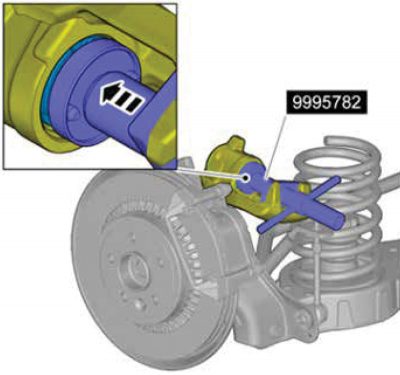 NOTE
If needed, use special tool 9995782.
NOTE
Replacing the rear brake pads before they are totally worn down will reduce the risk for having a seized caliper piston.